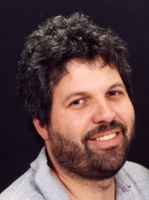 I currently live in Orange County in South California, USA. I have been painting all my life on various media and in the last few years have been creating works of art digitally. The results of this are presented in this active and growing web site that started in July 1998. It is a mix of digital painting, 3D graphics, and digital photography. I am married and have 5 children.
I am an active Christian, and this web site is an expression of my faith. When it was started in July 1998, I had the idea of creating desktop wallpaper for Christians to use on their computer with bible verses. This way they could express their faith in turn on their PC. I also know that images are used in churches, Sunday schools, and in both for-profit and non-profit publications.
A note on the artwork itself: most are a development of ideas had at the time they were created, and could be influenced by mood, sights seen, suggested bible verses, and so on. Something I attempt is to remind visitors who God really is and what he has done for us, and to encourage and reassure Christians in their faith. Through all the e-mails I receive I know this is happening. I also know different people like and dislike different images and the verses that go with them. I have a theory which I repeat on the welcome page of this web site - take two extremes: some Christians feel guilty, and need to be reassured and encouraged. Other Christians are overconfident and arrogant, and need to feel guilty. The bible is full of verses for both cases and all combinations in between. Therefore don't just accept that there are verses you like or dislike, but also that in exploring this web site, you will find out a little about yourself, and where you are with you walk with God.
I sometimes get contacted by people saying they knew a John Bell and asking if I am he. If this applies to you here is my vague life history to help you decide: Born late 1960's and lived in central/east Africa until I was 12. (My parents worked for a UK missionary organization - CMS). Lived in UK until 30 before moving to the USA. Schools I attended are St. Andrew's School, Turi, Kenya; Christ's Hospital, Horsham, England; Aston University, Birmingham, England. Companies worked for: British Telecom Research Labs at Martlesham Heath, Suffolk, England; Philips, Cambridge, England; Philips, Fremont & Sunnyvale, California; Conexant then Skyworks, Orange County, California; Qualcomm, San Diego. Attended churches in London, Birmingham, Colchester, Ipswich, Cambridge (all in England), Fremont, and Irvine. Attended summer camps on the north Norfolk coast and Lee Abbey, Devon - both England.
Updated July 2005.